Celebrate 20 Years of Steam
Steaming, roasting, baking, amazing.
Enjoy a gift with the purchase of a DGC XL or XXL combi-steam oven.
Valid through 03/31/2019
To take advantage of this special offer: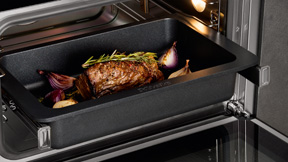 Induction-Ready Casserole Dish:
Constructed of die-cast aluminium with a high-quality non-stick finish, the Induction-Ready Casserole Dish is easy to clean and prevents food from sticking. Now you can prepare your favorite meat and vegetable casseroles, and place the oven dish directly on either side racks or FlexiClips.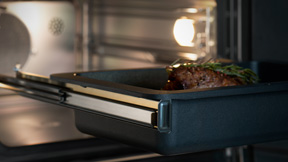 FlexiClips:
The FlexiClips with PerfectClean finish are designed to fit easily onto the side racks, allowing you to use every level of your oven for added flexibility. You can pull hot dishes away from the heat safely and conveniently before removing them from the oven.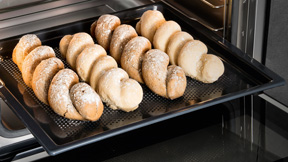 Perforated Baking Tray:
Inspired by professional ovens, this baking tray is ideal for baking with moisture. By allowing moisture to penetrate evenly from the bottom of the tray, you can achieve incredible results. Now you can make your favorite baked goods, from bread and crisp pizzas to quiche. And thanks to the tray's PerfectClean finish, it's especially easy to clean.
Come on in or schedule an appointment with us to talk through finding the perfect appliance package for your home.
More details on this promotion can be found here.